Well, here we are. Day Thirty. All good things, as they say, must come to an end.
I'd like to thank everyone for their support this month; I had never entered the online fandom before, but clearly I had plenty to say. Thank you for coming on this journey with me, and I hope we'll have many more adventures in television criticism together in the future.
I began this discussion series with
"And When The Sky Was Opened: The Passion of Cordelia Chase"
, an in-depth text analysis of Cordelia's character arc on both
BtVS
and
AtS
. The response to this has been overwhelming and humbling, and I thank you again for that.
As a sort of bookend, today I am going to do an in-depth exploration of perhaps the most troubling motif on
AtS
, particularly with regards to Cordelia: motherhood, pregnancy and the destruction of female identity through birth. This will not be nearly as
long
as my marathon Cordelia essay, but I hope it'll be as interesting and enjoyable to read.
And so, without further ado, here is an examination of one of the more problematic elements of
Angel: The Series
: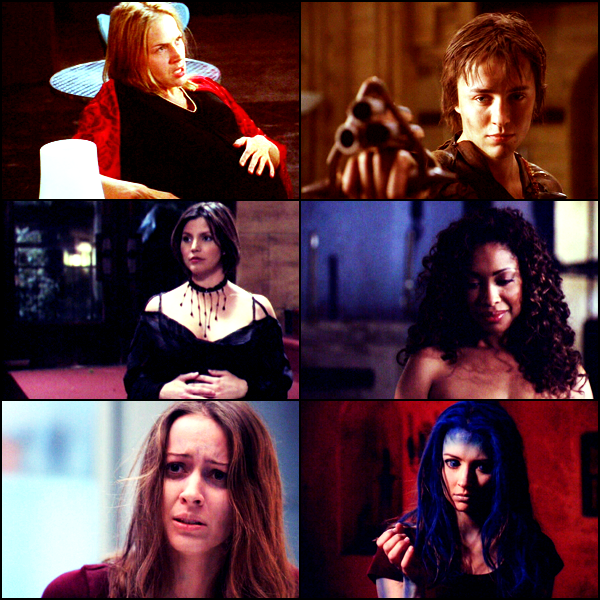 Blessed Art Thou Among Women:
Female Identity and the Monstrous Womb
in Angel: The Series
by
eleusis_walks
"The moment a child is born, the mother is also born. She never existed before. The woman existed, but the mother, never."
~ Osho
There are, generally speaking, two varieties of mystical pregnancies throughout
Angel: The Series
. The first is demonic pregnancy, involving the grisly birth of a monstrous thing through a human victim; sort of like
Alien
, but with demons. The second is what I will call 'messianic pregnancy', which involves the prophesied birth of a great supernatural leader. Both of these conditions are, in the long run, generally pretty harmful to the expectant mother. The mystical pregnancies on Angel break down as follows:
------------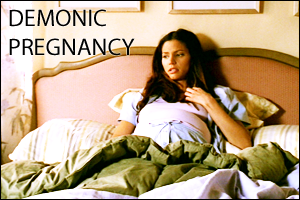 * Cordelia and her friends
, impregnated with Haxil Beast spawn - 1.13 "Expecting" (aborted, father slain)
* Stephanie Sharp
, impregnated with Skilosh spawn - 2.14 "The Thin Dead Line" through 2.15 "Reprise" (aborted, mother and her family murdered by angry father)
* Cordelia
, impregnated with Skilosh spawn - 2.16 "Epiphany" (aborted, father slain)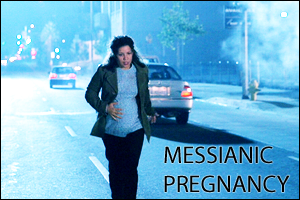 * Jo
, charge of Kamal the Prio Motu - 2.01 "Judgment" (presumably carried to term)
* Darla
, impregnated with Connor - 2.15 "Reprise" through 3.09 "Lullaby" (carried to term, mother dies in childbirth)
* Cordelia
, impregnated with Jasmine - 4.07 "Apocalypse, Nowish" through 4.17 "Inside Out" (carried to term, mother dies post-partum)
* Fred
, impregnated with Illyria - 5.15 "A Hole In The World" (carried to term, mother is consumed in childbirth)
* Amanda
, victim of the Fell Brethren - 5.19 "Time Bomb" (carried to term)
------------
This essay is primarily concerned with the latter kind of mystical pregnancy, though there will be cursory analysis of the first form as it applies to the second. Obviously there's some overlap here -- Jasmine and Illyria are messianic religious figures, for example, but are distinctly demonic in nature. In essence, the mere fact that some sort of mystical pregnancy factors into
every single season
of the show -- more than once, in S2 and S5 -- underlines the major role this motif plays in the series at large.
The messianic model is the most important one to analyze with regard to this show because it is the primary mode by which major female characters exit the
AtS
narrative. As you can see from the above chart, grotesque demonic pregnancy generally results in an abortion or miscarriage, with the mother no worse for wear (at least, not from the baby). Birthing a messiah, meanwhile, is a very dangerous proposition.
In the
AtS
messianic pregnancy model, the mother is rendered as a purely disposable vessel. Unlike in the standard Madonna story, where Mary is an important guide and influence on Christ, these characters are removed from the narrative with the moment of birth, leaving the fabled children behind to be raised by men. On some level, these three women - Darla, Cordelia and Fred -- hearken back to a Greek myth that helped to inspire the New Testament: the myth of Dionysus, whose mother Semele was immolated while pregnant, leaving Zeus (his father) to sew the fetus into his thigh, gestate it to term, and raise the boy himself.
The first messianic pregnancy presented on
AtS
is, at least, differentiated from this pattern. 2.01 "Judgment" concerns Jo, a very pregnant woman played by then-unknown Latina actress Justina Machado (now known for
Six Feet Under
). Jo is depicted as a working-class single mother; she was working as a checkout girl at Costco when she was apprised of the fact that her unborn baby is destined to be a great paragon of the human race -- "some seer or leader or Joan of Arc", as Jo puts it. The Joan of Arc reference is telling, as most Latino/a communities are Catholic and Jo doesn't hesitate to put this supernatural occurrence into a Catholic context; this sets the tone for mystical pregnancies on the show going forward. Jo really just wants her daughter to be... her daughter, and doesn't much care about this prophecy until demon assassins start breaking down her door and trying to kill her.
On a basic level, the choice of a pregnant woman as the innocent Angel must protect is sensible: Angel's journey is about potential futures and destinies, and about attaining far-off goals. The fact that his first televised mission upon learning of the
shanshu
is to act as guardian for an unborn future leader is fitting. More importantly, in accidentally killing Jo's first protector -- the Prio Motu demon Kamal -- Angel realizes how tenuous his own destiny is. Destiny is always presented as a mutable force on
AtS
, and while certain events are fated there is no guarantee that they will take place as planned. On a more basic level, as human beings we are socially conditioned to view violence against pregnant women as truly abhorrent, and therefore presenting a pregnant woman in danger is a good way to ratchet up the tension level for the audience.
Jo herself is pretty self-determined, rejecting Angel's help until it becomes clear that the demons are going to catch up with her -- and her baby -- if she doesn't accept aid from someone who knows how to fight. Her agency is slightly undercut by the fact that she is identified in-text only as "the pregnant woman" -- her name is given only in the script -- and the way in which she is treated, for much of the story, as an object. The central plot of "Judgment" relates to which side -- good or evil -- will get to have Jo and therefore her baby. In fact, it's the baby that is the prize; Jo is just the vessel, and this is where "Judgment" begins to presage the more troubling elements of the three core pregnancy arcs.
"Judgment", at least, presents one key point, which is that it is vital to protect the next generation of heroes. The storyline with expectant mother Amanda (played by Boreanaz's wife Jaime Bergman) in 5.19 "Time Bomb" pointedly hearkens back to "Judgment", shockingly subverting that message when Angel consigns Amanda's baby to the mercy of the demonic Fell Brethren. This is of course revealed to be a ruse in 5.22 "Not Fade Away", but of all the things Angel does in his plot to enter the Circle Of The Black Thorn, this is the first to truly make the audience take notice. It is the last statement on the role of mother and child on
AtS
, and it returns to the Jo framework: children must be protected so they can grow and meet their destinies, and their mothers can ensure that this happens.
Unfortunately, before Angel's final treatment of Amanda and her baby reasserts this message, we have to deal with three major arcs in which the mother is entirely diminished into a disposable object.
For The Wages Of Sin Is Death;
But The Gift Of God Is Eternal Life
-- Darla and Connor --
Unlike Cordy and Fred, Darla is presented from her very first appearance on
AtS
-- 1.15 "The Prodigal" -- as a mother figure. She is Angelus's sire, and therefore a sort of combination of mother and lover; this incestuous undertone is consistent throughout vampire relationships, particularly in the Order of Aurelius set: Darla and Drusilla (her 'granddaughter'), Angelus and Drusilla ('father' and 'daughter'), Angelus and Spike ('grandfather' and 'grandson') and Drusilla and Spike (another mother-son pair) all exhibit similar familial-yet-sexual dynamics.
Though coded as a mother from the get-go, Darla is distinguished from human mothers by the way she creates offspring. There is no biological imperative to host or nourish a child, as Darla herself is dead; therefore, her creation of Angelus essentially involves a penetration (with her fangs) of Liam of Galway, rather than a penetration of herself. She takes an
active
reproductive role by virtue of her vampiric nature, and the onus of gestation is placed on Liam's own body: he houses the demon overnight, and awakens as Angelus.
Darla doesn't understand what it is to be a human mother. First of all, she doesn't have a soul -- and has been a vampire for long enough to forget her human name -- so in essence she doesn't understand humanity at all. But more importantly, the idea of being a creative vessel is beyond her. Darla is not a fertile being. She is not a creature that can create life within herself, and in part this is what makes her sexuality threatening -- and it is no coincidence that human Darla is depicted as a prostitute. Darla takes what she wants, when she wants it, and the men are the ones left holding the bag.
This is why it is so profoundly interesting that the writers decided to have Darla get pregnant. Julie Benz certainly wasn't pregnant; this wasn't like the Cordelia plotline, in which the actress's real life condition predicated the story arc. No, making Darla the mother of a prophesied savior -- or destroyer -- of mankind is a very distinct choice. For in the end, Darla's sacrifice on her child's behalf -- committing suicide to ensure his life -- is perhaps the most profound redemptive act in the entirety of a series largely about redemption.
When Angel passes the trials in 2.09 "The Trial", he earns Darla a 'new life'. Because Darla has already been resurrected once before (in 1.22 "To Shanshu in L.A."), the valet claims that the second chance is forfeit. However, this second life is what precipitates Darla's pregnancy and the birth of Connor.
Is it wrong to say that on some level, Darla gets a second life through her child? Certainly in casting Vincent Kartheiser, the producers sought to make Connor look more like Julie Benz than like David Boreanaz; Benz and Kartheiser have a similar feline quality and lithe body type, while Boreanaz is more of a brawny wrestler. There are moments when Connor's expressions of rage look just like those his mother would have made. And truly, Connor and Darla undergo a process more profoundly connective than anything most parents and children ever experience: they spend nine months literally sharing a soul. Darla's unintentional impregnation -- the creation of life as a consequence of emotionally hollow sex -- is also a nice inversion of her initial wasting away as a human prostitute from syphilis -- death from emotionally hollow sex.
Now, there's a problem here, which is that reducing a character as fundamentally dynamic as Darla into a Mother first and foremost, sublimated into her child's story, is kind of disappointing. At the same time, Darla
chooses
this path for herself; while she doesn't view motherhood as redemption, she still believes that there is some good that can be done in the world if her son is in it. She makes the choice to take her own life and live on through him, the soul they shared guiding him.
When Darla -- or a simulacrum thereof -- next appears in 4.17 "Inside Out", it is her motherhood that becomes her greatest tragedy. Unable to raise her son herself -- because she was removed from the narrative in the moment of his birth -- she was forced to leave him in Angel's care. And Angel, as fathers tend to do in the Buffy/Angelverse, has completely screwed it up. Darla tries to reach her son, but it's far too little too late. Absent from his life except as a spectral idea, she doesn't have the tangibility to make herself and her worldview a believable option that Connor can follow. He falls to the darkness, and she fades back into the ether.
At the end of the day, Darla's is the one arc of these three that doesn't give me serious trouble. Darla has the power pretty much the entire time, and while the pregnancy is unexpected she is the one who decides to kill herself rather than let her baby die in the womb. Her sacrifice is redemption without being
absolution
, and she goes out with an affirmation to Angel that neither of them will ever really atone for their heinous crimes. While Darla is removed from the story and rendered as a maternal icon, it is a choice -- with both positive and negative consequences -- that she makes for herself.
And What Rough Beast, Its Hour Come Round At Last,
Slouches Toward Bethlehem To Be Born?
-- Cordelia and Jasmine --
Before leaping into the Jasmine arc, it's important to establish Cordelia's context as a sexual being on
AtS
. Cordelia is canonically noted to have sex three times, total: in 1.15 "Expecting", on the vacation between 3.14 "Couplet" and 3.18 "Double Or Nothing", and in 4.07 "Apocalypse, Nowish". The first of those sexual encounters results in her impregnation by parasitic demon spawn, while the third is an act of rape perpetrated on her body by the possessing entity secretly already hiding in her womb.
Not a great track record. While the other primary characters (even Angel!) are allowed to have positive sexual relationships, Cordelia is always punished for sex. Even her dalliance with Groo is initially presented as a choice between her duty and her sexual choices, and after she figures out a way to maintain her visionary talent despite sex with Groo, their relationship is portrayed as something of a shallow, superficial charade based on her love for Angel and denial thereof.
Even when she's not having sex, Cordelia is the character whose body is most frequently threatened. In 2.16 "Epiphany", while she is but one -- along with Wesley and Gunn -- of the Angel Investigations team members to be threatened with demonic impregnation by Skilosh, she is the only one the demons actually manage to implant before being destroyed. The demon spawn is quickly done away with, but it's yet another example of Cordelia's body integrity being compromised by an act of sexualized violence. In the Pylea arc, Cordelia herself comments on this: "do I give off some kind of
com-shuk
me vibe?"
But while Cordelia generally gets the upper hand over her successful or attempted violators -- she smashes the Haxil Beast in "Expecting", she beheads Silas the Pylean priest in 2.22 "There's No Place Like Pltz Glrb", et cetera -- Jasmine, her daughter-granddaughter-rapist (this gets complicated) is a foe impossible to defeat. Cordelia's womb is presented on some level as a weak point, a locale for monstrous creation, rather than a site of her own empowered sexuality and fertility. Jasmine slips inside Cordelia with ease, and takes root there until she has control of the entire body.
What is particularly interesting about Cordelia's pregnancy arc is the way it draws on Darla's. Cordelia is initially quite sympathetic to the pregnant Darla in 3.07 "Offspring", forgetting that despite her pregnancy Darla is still a horrific monster. When Darla dies, Cordelia acts as the mother figure in baby Connor's life. The messianic son that Darla died to birth becomes Cordelia's maternal responsibility, and when Connor returns from Quor'toth Cordelia's protective feelings toward him cause a sort of intimate energy exchange (3.21 "Benediction") that no doubt influences his later lust for her.
When Cordy is possessed, it is Connor whose miracle semen (or something; really, this is kept vague, which is probably for the best) enables the physical birth of Jasmine. So on some level, Darla's transformation into a dying iconic mother forces Cordelia into the same position. But while Darla's son is a tabula rasa, a child who can end up hero or villain, Jasmine is a defined being with a preexisting agenda.
This is a major part of where the S4 arc falters; while its unpleasant treatment of Cordelia is obvious, Jasmine herself also bears no particular resemblance or connection to Cordelia. Darla clearly lives on in Connor, and Fred (as we will explore below) clearly lives on in Illyria. Where is Cordelia in Jasmine? She isn't there, because Cordelia is not actually Jasmine's mother. She was just a host.
So while Jasmine is a very compelling character in her own right, as a strict reworking of the initial seasonal idea -- Cordelia as well-intentioned Big Bad -- she falls flat. They're not remotely the same person, and there is no logical extension of Cordelia into Jasmine; Jasmine was born in the inferno of creation (qv 4.21 "Peace Out"), and she wears Cordelia like a nice outfit rather than deriving anything from her supposed mother. There is no connective relationship like the one shared between Darla and Connor, and no symbiosis like that of Fred and Illyria. Cordy is used as a vessel, drained dry, and discarded. Thankfully, as this is the most egregious arc of the three, Cordelia is accordingly the only one of these 'mothers' to truly get a chance to reclaim her personal identity as a non-maternal presence with her own narrative arc (qv 5.12 "You're Welcome").
Still, within the context of the child-bearing arc note that again the 'mother' (in this case truly only a symbolic role) is removed from the narrative entirely, leaving the father (now Connor, rather than Angel) to care for the child himself. Cordelia -- like Darla -- is the birthing vessel, while the father must be the guide. And truly, it is Connor who makes the executive decision, once Jasmine has shown her true colors, to end her life. He takes responsibility for his child, and in slaying his own offspring he makes the antithesis of his mother's choice.
The psychic backlash of this act drives him profoundly over the edge, compelling Angel to make the same decision... but with the caveat that it will give the child a whole new beginning. Angel discovers the synthesis of Darla's choice for Connor and Connor's choice for Jasmine, 'killing' his son while simultaneously selling his own future to ensure that his son will have a better life. Cordelia, meanwhile, lies around in a coma, literally objectified into an icon her worshipers call the Transcendent Mother.
Near Them On The Sand, Half Sunk,
A Shatter'd Visage Lies
-- Fred and Illyria --
Much as Cordelia's transformation into a dying Madonna was predicated on Darla's earlier sublimation into the same role, Fred's maternity and death are a direct result of Cordelia's. It is because of Jasmine -- and Angel's role in her execution -- that Lilah Morgan is authorized by the Senior Partners to offer Angel Investigations full stock in Wolfram & Hart. Their acceptance of this deal is what puts Fred in the position that eventually leads to her selection as the host of Illyria. In the same way that Darla's delivery of Connor precipitates the conception of Jasmine, Cordelia's delivery of Jasmine precipitates the conception of Illyria.
Fred's possession by Illyria is of course not depicted as a 'pregnancy' in the traditional sense; her belly is never shown to swell, and Illyria doesn't grow in her uterus. But the way Illyria enters the world is clearly made into a sort of parody of birth: it is no coincidence that he (for Illyria's titulature suggests that it is considered male, at first) infects the only female member of the cast, and his incubation within Fred's body is explicitly referred to as "gestation" by Wesley's texts. To view this as another extension of the killer pregnancy motif doesn't seem out of hand to me.
One particular point about Illyria is that of the three arcs, this is the only one to involve no sex at all. 5.15 "A Hole In The World", in fact, pointedly implies that Wesley and Fred have never been sexually intimate: "I finally get you up to my room," Fred jokes, dying, "and all you want to do is read." It is tempting to read this unique characterization as representing Whedon's particular affection for the supposedly "innocent" Fred, while he viewed Cordelia and Darla as disposable harlots. But that may be slightly unfair (if, again, very tempting).
Whatever the case, Wesley is there at Illyria's birth, and as Fred supposedly dies, "consumed in the fires of resurrection", he is left once again as the single father. Like Angel and Connor before him, he must come to understand his utterly alien offspring and teach her (for once Illyria enters Fred's body it is unquestionably described as female) how to make her way in the world.
It is difficult at first glance to say which is more respectful: to remove the mother from the narrative entirely (as in Cordelia's case), or to allow the violator-child to wear her face (as in Fred's). In the end, I err on the side of the latter, because at the very least it allows Fred to have a continued presence on the series; every time Illyria looks at Wesley or Gunn or one of Fred's friends, we know exactly what they are thinking.
That's her face.
The other thing that gentles the unpleasant quality of letting Illyria keep Fred's body is the continued implication as Season Five continues that Fred's soul was not destroyed, but rather merged with Illyria's essence. Darla and Connor had a connection, but Fred and Illyria literally become one being. Rather than being portrayed purely as a
mother
, Fred becomes one half of a greater whole.
While the Illyria arc appears to be another affirmation of the problematic woman-as-disposable-vessel motif that characterizes Cordelia and Darla's arcs -- and certainly, "A Hole In The World" takes great pleasure in depicting her suffering, torture and death in the birthing process -- eventually I think it becomes a great subversion of the earlier two stories. This doesn't become truly clear, I think, until 5.22 "Not Fade Away".
In that episode, Wesley -- the father who, like Connor and Angel, will presumably have to slay his child -- in fact dies himself, like Darla did. His sacrifice, his willingness to die, is what allows Illyria to fully integrate Fred's emotional systems. In a sense, Fred rises to the surface of Illyria, and the two seem to become one. For the first time, the
mother
figure (Fred) is granted a degree of agency both over her child and over the narrative. Indeed, in Wesley's dying moments he does not just help his surrogate child through the heroic crucible; he also gives Fred the push
she
needed to become an actualized heroine as part of Illyria.
Final Musings
I make no attempt to hide the fact that I approach cultural studies -- including media studies -- from a gender and sexuality studies perspective in addition to a narrative one. At the end of the day there are, in fact, a lot of significant problems with the way
Angel: The Series
treats women.
I will never be able to wave off the serious questions at the heart of each of these three storylines, but I remain confident that, at the very least, Darla and Fred's stories -- however muddled in their execution -- offer a degree of hope and feminine agency at the end of the day. Cordelia, the only character truly
degraded
by the narrative in her pregnancy story, manages to end the show by reclaiming her personal agency entirely outside of that arc.
So while I object to a lot of the content of these storylines, at the end of the day I can love
AtS
as a whole: because it creates as much as it destroys, because these women are powerful and don't go down without a fight, and because the handling of motherhood is nuanced enough to be intriguing at the same time that it is occasionally infuriating.
And that, as they say, is that.