Picking this one was just as much a no-brainer as yesterday's, though I am not quite as passionate about this character as I am about Cordelia -- in fairness, this is like saying I am not quite as dependent on something as I am dependent on oxygen.
My favorite male character from
Angel: The Series
is: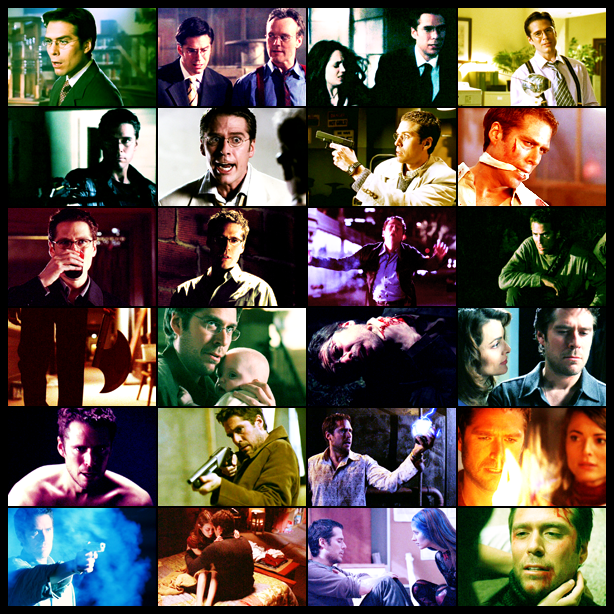 Wesley Wyndam-Pryce
Honorable mentions should go to two bit characters who never fail to improve an episode:
Holland Manners
and
The Host
(but only when he's The Host in S2; once "Lorne" joins the gang he loses me).
I don't have a Wesley
essay
(a Wessay, perhaps?) for you, but I'll gladly share my thoughts.
I think first and foremost I love Wesley because his character arc is the most fully realized of any character on either show. If I were to go in and rewrite it myself, there's not much I would want to change. Perhaps, with the foreknowledge of his role on
AtS
, I would have made him not
quite
so buffoonish and craven (especially the craven part) during his tenure as Watcher on
BtVS
. Obviously, at the time he is meant to act as a foil for Giles, and therefore his characterization is limited.
In reality, I think that Wesley and Giles are a lot alike in terms of functional role on their respective series. They are both Watchers and occult experts, of course, but they are also the character placed in a specific moral context: as the person who is
not
the hero, but rather the hero's intellectual and rational guide (as opposed to spiritual guide), Wesley and Giles are called upon to do the dirty work and keep the hero pristine. They do things the hero can't do.
Giles, for his part, takes to this duty readily. He is the first person to maintain that he is
not
the hero, because he is the most genre-savvy member of the cast on
BtVS
and understands his place in the narrative. This is why after he smothers Ben in
BtVS
5.22 "The Gift" -- something of the ultimate statement on this role -- he starts to become rather static. There's nowhere left for him to go, particularly.
Where Wesley is most tragic -- and indeed, he is perhaps the most tragic character on either series -- is in the fact that he never truly understands his role. Wesley always believes that he is a hero. In striving for that, in failing to accept a role as aide and let Angel be the hero, he constantly does the wrong thing for the right reasons. Wesley takes the most heroic actions he can find in any given situation, but it's always precisely the wrong thing to do. He isn't the hero, and he doesn't think like one.
This is why I find him most interesting in the later seasons: after he has been cut off from the group, he actually becomes the rogue demon hunter he longed to be circa Season One. He suddenly sees himself as the misunderstood antihero, suffering unjustly, and goes into a 'dark' phase almost like a comic book superhero of the 1990s (this makes sense if you're in comics fandom, sorry if you're not!). He begins to revel in the grotesque and the amoral because it is part of the heroic arc he has created for himself in his own mind; eventually he will come out of it, obviously, and become the hero he was always meant to be. This is why he seems so ashamed when he talks about it with Willow in 4.15 "Orpheus": he realizes that his 'dark times' have been less about suffering and more about making himself feel like a tortured action hero.
It's his relationship with Lilah, I think, that really sets him on the path that will lead to his eventual destruction; ironically, though, it's not Lilah's fault. Lilah is a villain, and is completely comfortable with that. She tortures, betrays and uses people without compunction. All she wants to do is make Wesley understand that he isn't the hero, and doesn't need to put that kind of burden on himself. She can see that his constant striving to be a heroic paragon is what constantly ruins his life. I don't believe for a second that Lilah actually wants Wesley to come work for Wolfram & Hart, or that she wants him to become a villain: she just wants him to be Wesley.
Wesley sees what Lilah is saying, and it terrifies him to his very core. He creates a further fantasy whereby Fred becomes a pure, altruistic ideal rather than anyone resembling her actual self. Wesley begins to see Fred as his True Love, the maiden in the tower whom he will earn through his heroism. Lilah becomes the despicable temptress existing to make him stray from his path. He leaves Lilah because he needs to be with Fred in order to feel that heroic validation, but at the same time becomes obsessed with
saving
Lilah from her evil ways; something, of course, that Lilah has never desired.
A lot of people decry the Season Five mindwipe plot as lazy storytelling, but I think it is absolutely brilliant for one chief reason: it makes Wesley's presence at W&H unspeakably disturbing, because you know that a) his mind has been more profoundly violated than anyone else's and b) he is the person who would object to the mindwipe most of all. Even with most of the memories gone, the Madonna/Whore paradigm he erected around Fred and Lilah persists, and still he places all his hopes and dreams into a heroic existence where Fred is his prize.
And then she gets eaten alive from the inside, the moment she consents to be with him.
There is only one reason I would have liked to see an
Angel
Season 6. One. And that is that I would watch a million episodes of the Wesley and Illyria show. Few things in the entire series are as emotionally powerful as Wesley's interaction with the demon-king inhabiting the shell of a woman he only ever knew as an idealized facade. "This is only the first layer," Fred says to him in a dream, and truly that layer is all he ever got to know of Fred. That layer is what is left in Illyria (barring other fragments -- I am of the school of thought that argues Fred's essence/soul/etc is in there somewhere), and so the only comfort he can find is in making Illyria depend on him.
In the last days of the series -- only after his last desperate attempt at heroism in 5.18 "Origin" -- Wesley finally resumes his place as Watcher, with Illyria as his charge. In 5.22 "Not Fade Away", just before the team parts company, he and Angel share a single glance in which volumes of understanding are exchanged: it is the moment at which Wesley understands that he is not the hero, and that he will be dying that night. Finally, he accepts his place in the narrative and allows his sacrifice to give new purpose to Illyria's life, but he does it as a broken man already largely dead inside. Beautiful arc, beautiful ending. Tragedy at its finest.
Oh, and it doesn't hurt that I'd hit it. So hard.